Hello, everybody! I hope none of you minded (or maybe didn't notice . . .) my two-week absence but I'M BACK AND READY FOR ACTION! Anyhoo, now that the welcome-back party for me (hosted by me and me only) is over, I've come with a fun little post for my fellow writers. Or movie buffs because you're cool too!
I freaking LOVE going to the theater as often as I can to see the newest releases and just spend a couple of hours doing nothing but relaxing with a big bucket of popcorn in a dark room. No judgment or work, just kicking back and watching a hopefully good film. I'm actually famous among my friends and family for seeing every new movie as soon as it comes out, often times they'll ask me if a movie is worth seeing because it's assumed I've already seen it. Yeah, I roll like that #thuglife. However, I've come across some pretty good movies in recent times and I've notice they've all had a common theme to them: writing. Either the movie follows a writer, talks about writing, is about writing, or has elements of storytelling added into the mix. So I had a lightbulb moment.
Why not recommend some films that writers will or could appreciate to give a little inspiration and drive to finish that novel? Or maybe there's someone out there reading this right now (Yes, I'm looking at YOU) who's in the mood for a good movie to kick back with? I know I'm ALWAYS on the lookout for new movies that aren't a waste of my time to get sucked into. I'm sure there are many others as well. That's a fact and I'm going with it. HERE ARE MY MOVIE RECOMMENDATIONS!!!! YAY. GET THE POPCORN.
1. LAUGH OUT LOUD
Let's start off with some movies to make you smile and laugh to get the post start off right, shall we?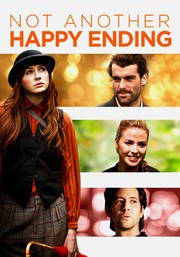 Not Another Happy Ending: After discovering that his only successful author has writer's block because she's too happy, a publisher tries to inspire her creativity by making her miserable.
This movie was something I decided to watch a little while ago on a whim because I thought it looked cute and had a funny synopsis. I would totally recommend this one as it is actually very entertaining, funny, witty, and perfect for a little relaxation. It also reminds you that writer's block is a pain that you are NOT ALONE in! Stay strong, my writers! It's also available to stream on Netflix in some countries!
My Girlfriend's Boyfriend: When Ethan arrives at the airport just in time to declare his undying love for his girlfriend, love appears to have conquered all. The scene, however, is really the ending of Ethan's novel, which his agent calls "unrealistic." Ethan soon meets a waitress, and falls in love with her despite her growing devotion to Troy, a charming businessman. But the line between reality and fiction becomes increasingly blurred.
I'm too much of a fan of the 90's television show Who's The Boss? to have passed up this movie starring Alyssa Milano. I thought it sounded cute, once again, and was pleasantly surprised by how much I actually enjoyed it. As is the case with the previous movie mentioned, it's funny, lighthearted, cute and gives you some much-needed feels. I think this movie would be perfect for a girls' movie night if that catches your fancy. This one is also available to stream on Netflix in some countries.
Authors Anonymous: Members of a writers' group are shocked when Hannah, their newest author, finds overnight success.
This movie was nothing short of entertaining. A group of writers get together every week to work on their novels and help each other edit, polish and shape their novels to submit to publishing houses in a group of love and support. However, when one writer finds overnight success, the group starts to, shall we say, feel a little jealousy. It was such a cute and funny movie to watch and is actually my favorite one of the laugh-out-loud section of these recommendations.
2. Lights, Camera, ACTION!
True Memoirs of an International Assasin: A mild-mannered author is mistaken for an assassin after his novel about a hired killer is published as a true story. He is soon kidnapped and taken out of the country to help with an assassination plot.
This movie was something I was eagerly awaiting to come on Netflix since I'm a fan of Kevin James and his comedic films. I personally died laughing during some parts of this movie just because the plot was just so fun, fast-paced, and a little over the top. I think this movie is quite entertaining, even if you're not a writer and just want a movie to enjoy on a Friday night.
The Games Maker: Ivan's love of board games transports him into the competitive world of game invention.
This movie was recommended to me by one of my good friends because she said it was like A Series Of Unfortunate Events but with board games and I was like "YEAH, I'M WATCHING THAT." Right off the bat, the movie had a very Lemony Snicket feel with its quirky yet darker themes but was nothing short of entertaining. I would indeed say that if you liked or loved ASOUE (either the book series, show, or movie) you'll probably end up loving this movie as much as I did. I've already watched it about a hundred times and I'm always so entertained by the storytelling. Once again, this movie is available to stream on Netflix!
Goosebumps: Upset about moving from the big city to a small town, young Zach Cooper finds a silver lining when he meets his beautiful neighbor Hannah. The teen is surprised to learn that Hannah's mysterious father is R.L. Stine, the famous author of the best-selling "Goosebumps" series. When Zach accidentally unleashes the monsters from the fantastic tales, it's up to Stine, his daughter and Cooper to return the beasts back to the books where they belong.
Okay, my 90's kid heart kind of took over this choice. But what can I say? I grew up reading the books, watching the show (in all of its cringy cheesiness) and even got REALLY into watching The Haunting Hour which is the more recent Goosebumps show. But come on, who doesn't love a movie about monsters in books being unleashed? Just me? Okay, I see how it is. Either way, you NEED to watch this movie. It's a classic in my book. See what I did there? It's also on Netflix!
3. DON'T TURN AROUND . . .
This one's for all my horror/thriller movie lovers like myself. I got your back! Kind of . . .
HUSH: A deaf writer who retreated into the woods to live a solitary life must fight for her life in silence when a masked killer appears at her window.
I stumbled upon this movie randomly one day and decided to watch it since it looked really interesting. Plus, I'm a sucker for a good thriller and this one had pretty decent reviews. I was pretty much glued to the screen the entire time I was watching this movie and have already watched it multiple times, never getting old of the plot. This thriller isn't too terrifying if you get scared easily, not really any jump scares so you're also good there. But the plot and suspense keep the story exciting and it's one of my favorite thrillers. Also, on Netflix.
Secret Window: While in the process of an ugly divorce from his wife, writer Mort Rainey relocates to his remote cabin in upstate New York for solitude. Attempting to recover his mental health, Rainey has the misfortune of being found by John Shooter, a farmer who claims Rainey plagiarized his work. At first, Rainey ignores the accusations, but Shooter has no intention of quietly disappearing. Soon, Shooter becomes increasingly vicious in his quest for retribution.
Once again, total sucker for thrillers here. This one isn't as crazy as the previous thriller but it's still pretty interesting and suspenseful which is good enough for me. I borrowed this movie from my library just to see what it was about and I can safely say that if you get scared easily, this one won't give you nightmares. Although you might avoid cabins in the woods for the rest of your life.
Extraordinary Tales: Christopher Lee, Bela Lugosi and Julian Sands narrate the Edgar Allan Poe stories "The Tell-Tale Heart," "The Pit and the Pendulum," "The Fall of the House of Usher," "The Facts in the Case of M. Valdemar" and "The Masque of the Red Death."
Okay, I'm a HUGE Edgar Allen Poe fan, I'm even currently wearing an EAP bracelet at the moment that I'm typing this post up. So when I stumbled upon this indie animation film, I almost screamed my head off in excitement. What I LOVE about this movie is that all the stories had such a creepy, ghost-like, haunting feeling to them and not just because of Edgar Allen Poe's classic horror storytelling. The narration was soothing, calm, even a little sad. The animation for each story was also completely different than the last which also made me love it even more. I totally recommend this movie to literally EVERYBODY. It's on Netflix, go crazy.
So that's it for my movie recommendations! Did you guys enjoy this post? If so, what's your favorite movie to watch and why?